It's amazing how much your choice of legwear can alter your outfit (and thus how people perceive you).
Consider this: you attend a business meeting. You've got a smart business jacket, tie, and possibly a snazzy designer watch on top. You also have a matching pair of formal trousers. The people across the table believe this man is here to conduct business.
But now let's switch things up a notch. Replace your formal slacks with a pair of jeans. You're still Forbes Fortune 500 at the top, but from the waist down, you're Levi & Strauss. Those guys across the table now see you as a laid-back executive, focused on business but with a sense of levity in your demeanor.
Don't underestimate how much a good pair of pants can say about you. It's a kind of advertisement that tells people how you want to be welcomed at any given time. Casual pants communicate to everyone that you want them to feel at ease around you. Dress pants, on the other hand (or leg), say you're here to get some work done, no time wasting.
So, let's look at 30 examples of legendary legwear that will put a spring in your step, pride in your stride, and zip… in your zipper. We'll look at the overall feel of various types of pants before delving deeper into some standout examples of each.
In a hurry? Not a problem! Here's our pick for the best men's pants on the market right now.
BEST OVERALL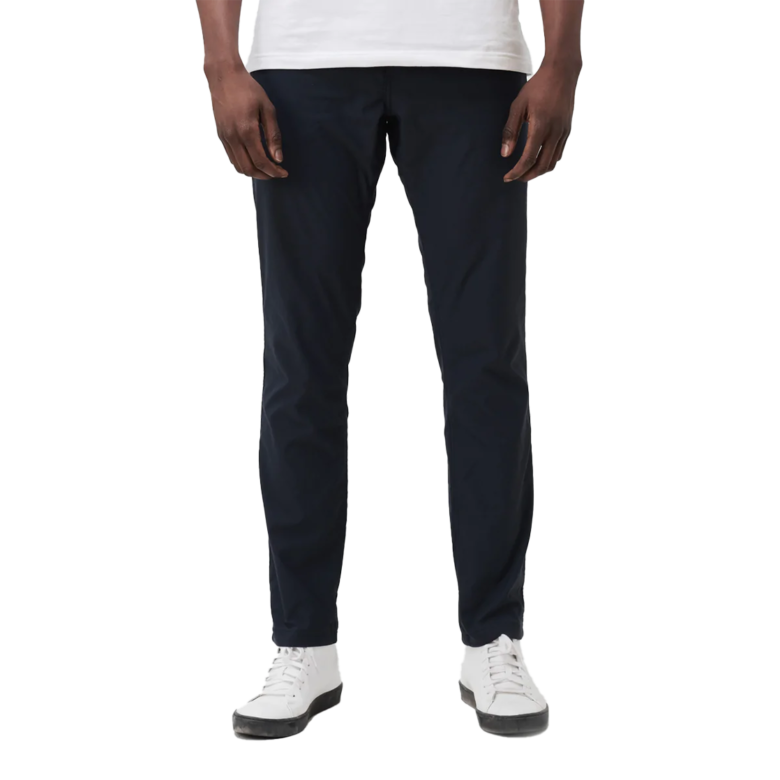 WESTERN RISE
The ultimate pair of men's everyday pants. Comfortable, stylish, versatile, and long-lasting.
Quality: 9 / 10
Durability: 9 / 10
Our rating: 9 / 10
Price: $128
BEST CHINOS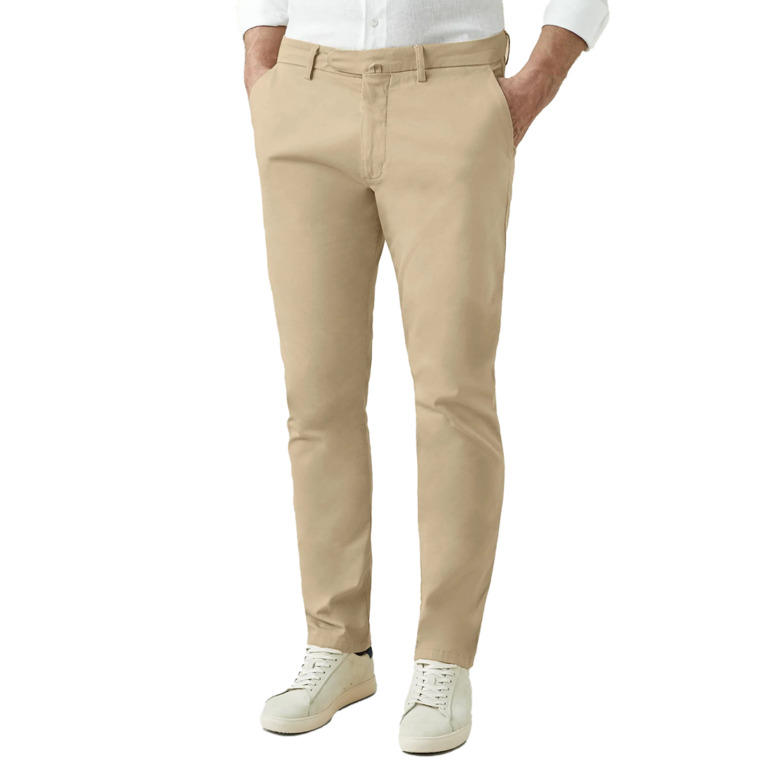 LUCA FALONI
A timeless design created with premium materials for a relaxed appearance.
Quality: 9 / 10
Durability: 8 / 10
Our rating: 9 / 10
Price: $175
BEST SWEATPANTS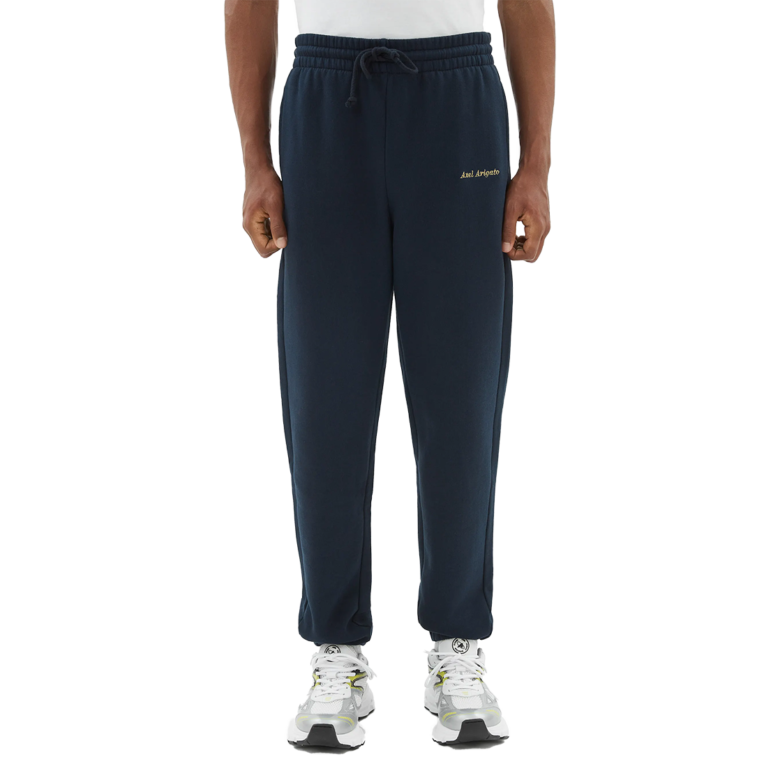 AXEL ARIGATO
A fresh take on the classic sweatpants. It's both comfortable and stylish.
Quality: 8 / 10
Durability: 8 / 10
Our rating: 8 / 10
Price: $95
30 Best Pants For Men
To make things easier for you, we've divided the thirty best men's trousers into the following categories:
Men's chino pants
Chinos are about halfway up the dressiness scale for men's pants. They are similar to khakis but have a few key differences that make them the more formal option of the two. First, the stitching on chinos is visible, whereas it is hidden on khakis. Second, chinos are made of lightweight cotton or a cotton blend, whereas khakis are made of a heavier-weight material.
Lightweight Chinos by Luca Faloni
Luca Faloni's Chinos are an excellent choice for your smart casual wardrobe, with an internal waistband that is useful for keeping your dress shirts tucked in. You can wear these pants to create a more athletic look by pairing them with a spiffy polo, or you can go for a smart accomplished look by pairing them with a dressy casual shirt.
Best for: Lightweight luxury, smart styling.
Colors: Steel Blue, Camel Beige, Olive Green +More
Hugo Boss Chinos Regular Fit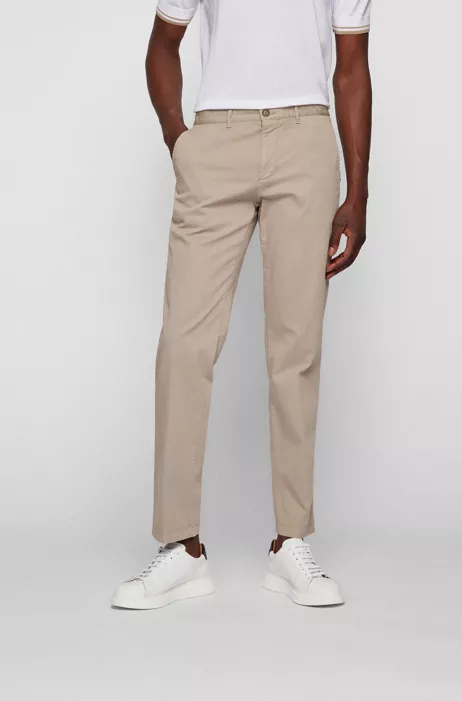 Hugo Boss regular-fit chinos are a classic example of the chino breed and a textbook definition of this style of men's pants. With a regular waist rise and straight-cut legs, these trousers can serve as the foundation of a casual dress outfit when paired with white sneakers and a t-shirt. All you need is a pair of luxury socks showing at the cuffs to add a touch of class.
Best for: Making tradition work for you.
Colors: Leight Beige, Dark Blue, Black
Goodthreads Stretched Chinos
If "Thank God It's Friday" were a pair of pants, it'd be these Goodthreads stretched chinos. These chinos are fantastically affordable and make it easy to transition from workday to playdate without having to stop and change. And because they're so cheap, you'll be able to splurge on some upscale underwear with the money you'll save.
Best for: Affordable tides lift all outfit boats.
Colors: Pine Green, Gold, Stone + More
Jeans for men
Jeans have come a long way since their debut as workwear in the mid-1800s. While not dress pants, the best men's jeans have climbed the fashion ladder when paired with a sharp pair of dress shoes and a blazer. Jeans remain enduringly fashionable and a mainstay of men's casual wear due to their effortless versatility.
Jeans by Robert Graham Letcher
If you're going to wear your jeans in a more formal setting, dark-wash jeans are the best option. Consider Robert Graham's Letcher jeans; pair them with a leather jacket and some upscale all-day shoes for a casual look that still looks classy enough to impress onlookers.
Best for: Relaxed on the inside, head-turner on the outside.
Colors: Indigo
Rag & Bone Throop Jeans
The Throop jeans from Rag & Bone are the brand's most popular jean fit. These slim-fitting jeans have a narrow waist and thigh fit, as well as slender leg openings. The use of 10-ounce Japanese comfort stretch denim ensures comfort, allowing for a soft and stretchy feel not found in all brands of jeans.
Best for: Not denying yourself comfort in the denim world.
Colors: Throop Blue
Levi's 505 Jeans
We'd be breaking the law if we didn't mention the granddaddy of the jean world, Levi's. Take a look at the classic Levi's 505 regular-fit jeans in particular. The 505s are the jeans against which all other jeans are measured—the look, fit, and durability of jeans all begin here. Combine some 505s with a bomber jacket and luxury sneakers to become the epitome of cool.
Best for: Joining in with generations of jean wearers.
Colors: Clif, Caraway, Tin Man + More
Dress Pants for Men
Let's put on our finest. Whatever the occasion, the right pair of dress pants for men can make you look like a million bucks. Fortunately, brands have gotten so good at tailoring dress pants that you don't have to give up comfort.
Here's a quick tip for wearing dress pants: unlike more casual wear, dress pants don't look good with the leg bottoms crumpled up by your shoes. The cuffs can be touching and a little scrunched, but they should be just brushing the tops of your shoes, hiding the sock.
Luca Faloni Wool Pleated Trousers
If you're going to be at work all day every day, you'll need a pair of dress pants that are extremely comfortable. The wool pleated trousers by Luca Faloni are ideal. The tailored pleats, made of 100% virgin wool, provide space for your legs to relax in.
Best for: Immediate style, comfort for days.
Colors: Midnight Blue, Charcoal Gray
Ami Paris Wool Evening Pants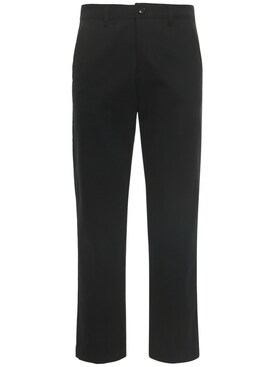 The minimalist design of Ami Paris' wool evening pants makes them a versatile choice for both dressy and business-casual occasions. This is another pair of dress pants with a dropped crotch that is designed for comfort as well as good looks. These pants will serve you well in both business and upscale social settings.
Best for: Making friends with all your other formal wear.
Colors: Black
Haggar Premium Khakis
Let's relax a little while still maintaining our classy demeanor. Haggar's premium khakis are reasonably priced and have a hidden feature: the waistband expands. So, if you know you're going out for a big meal with your office gang, you can eat comfortably without your waistband interfering with your enjoyment.
Best for: Sneaking a lot of comfort into a dressy scenario.
Colors: British Khaki, Dark Navy, Toast + More
Sweatpants for Men
You'll most likely be wearing sweatpants for one of two reasons: lounging around the house or working up a sweat. So you'd be correct in thinking that your primary concern should be functionality, with freedom of movement and moisture-wicking at the top of the list.
But that doesn't mean you have to abandon your desire to look good. We've gathered examples of men's sweatpants that combine functionality and style into one convenient package.
Axel Arigato Sweatpants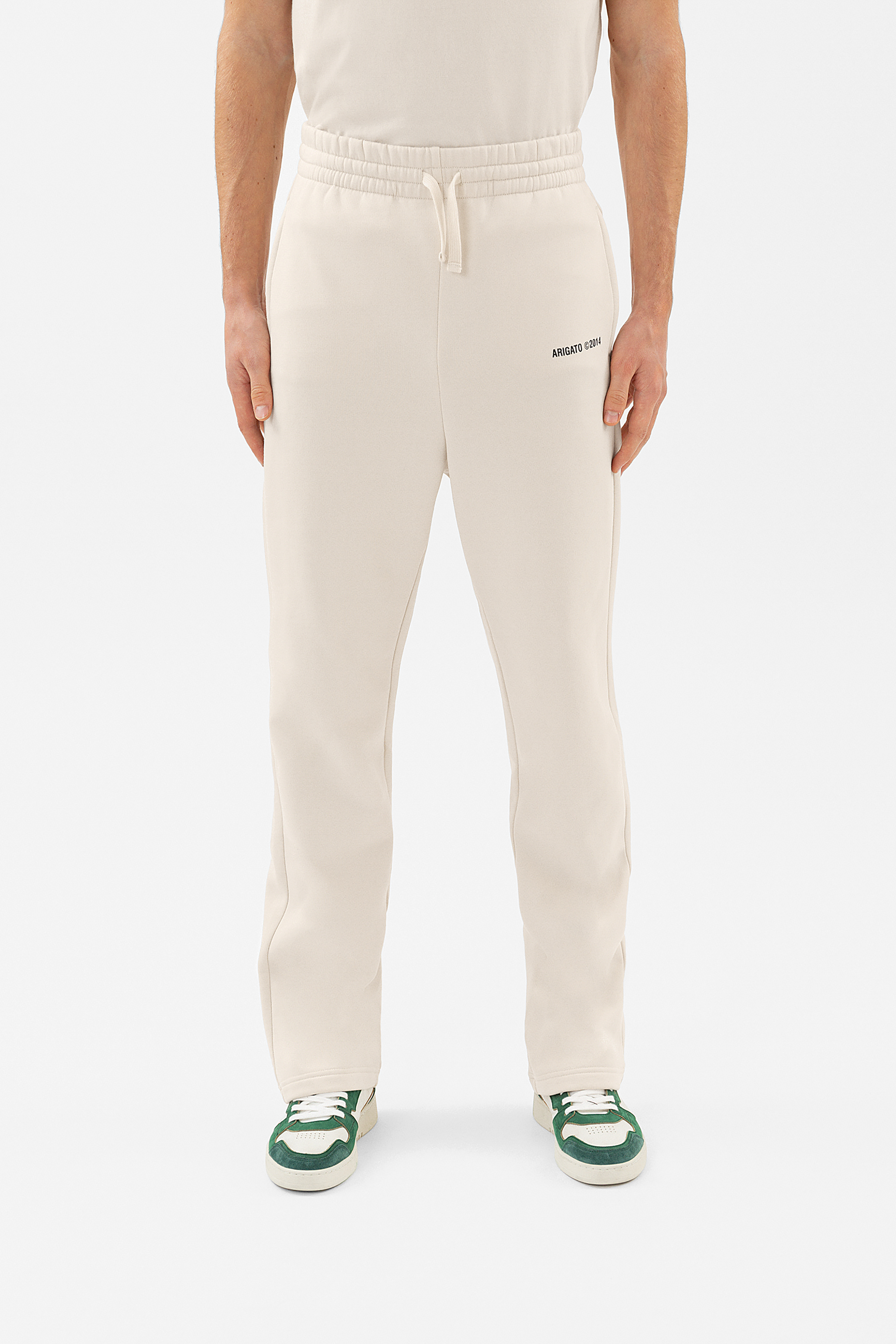 Relax on your days off in comfort, but also in style, in case you need to answer the front door and want to look good doing it. Axel Arigato's sweatpants are made of 100% organic cotton and have a relaxed fit to keep you as comfortable as possible during your downtime.
Best for: Lounging like it's your job.
Colors: Black
Fear Of God Vintage Sweatpants
Fear of God's vintage sweatpants is soft and comfortable. The fleece-backed jersey knit is as soft as it gets, and the vintage look pairs well with your favorite worn-in hoodie. A word of caution, though: once you put these bad boys on, you won't want to take them off.
Best for: Committing to ultimate lounge-wear comfort.
Colors: Gray
On Running Sweatpants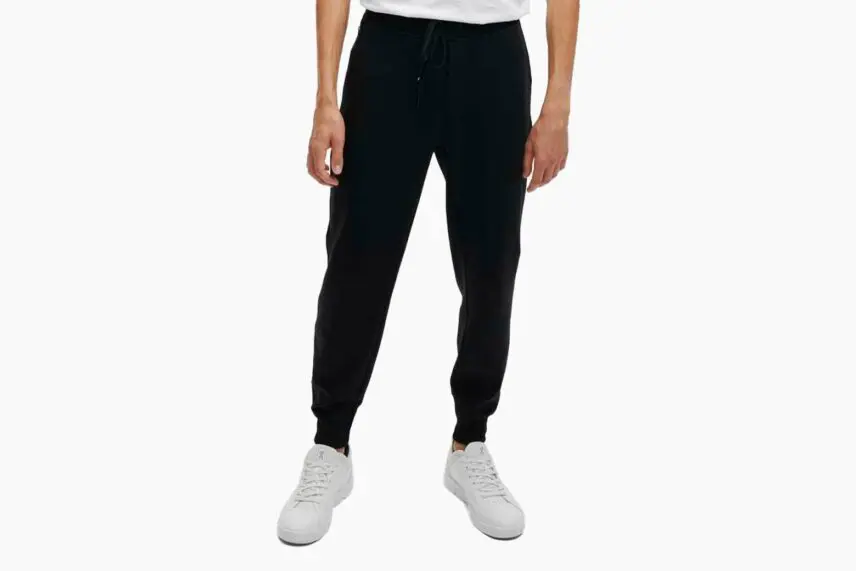 Athletic clothing manufacturer On, also known as On Running, is led by Swiss ironman champion Olivier Bernhard. He then enlisted the help of some serious athletes to design the next stage of athletic wear.
As a result, On Running's Swiss-engineered sweatpants are a sure bet for athletes. Fortunately, all those pavement pounders didn't forget to incorporate some good streamlined looks into the mix, making these a great pair of sweatpants for lounging at home as well.
Best for: Working up a sweat like a world-class athlete.
Colors: Black, Mulberry, Navy
Cargo Pants for Men
Cargo pants first appeared in the British military in the late 1930s. Cargo pants are now commonly thought of as a piece of workwear. However, certain designers and brands are attempting to broaden their appeal by incorporating them into fashionable casual wear and even dressier ensembles.
The key to incorporating cargo pants into a fashionable outfit? Wear them with simple, streamlined silhouettes, such as a leather jacket or a long-sleeve button-down.
Alpha Industries Jet Cargo Pants
The most practical of our selections, Alpha Industries' Jet cargo pants have a military vibe to them, especially when paired with some rugged-looking boots. The cuffs have ties so you can adjust the fit to fit the height of your boots. Pull them on, then move them out!
Best for: Adding the handsome factor to your hard-working gear.
Colors: Black, Dark Olive
Prada Nylon Cargo Pants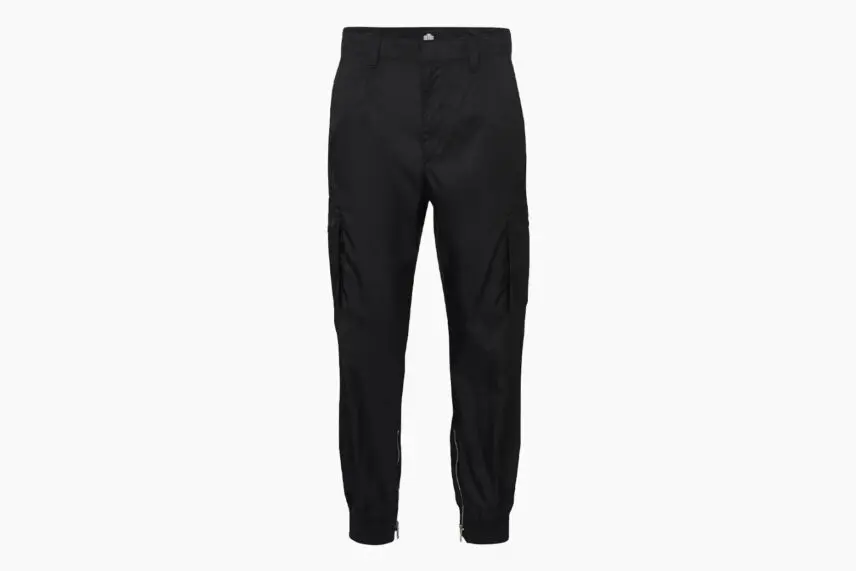 If Prada is making cargo pants, it's a good sign that they're breaking into the fashion scene rather than being viewed solely as functional. Prada's nylon cargo pants certainly prove the point; while they have extra leg pockets like other cargo pants, they also manage to have a slim silhouette like traditional dress pants. If you pair these pants with a sharp-looking dress jacket and some swank shoes, you won't get any complaints.
Best for: Bringing in a whole new vibe to your swankiest affairs.
Colors: Nero Black
Dickies Cargo Pants
Dickies' cargo pants fall somewhere between our previous two entries, with a bit more of the classic bulkier cargo pant silhouette than the Pradas, but they're not as military as Alpha Industries' gear. Dickies' cargo pants are both stylish and functional, and they look great with a crisp t-shirt or polo and some luxury leisure footwear.
Best for: Dressing up functionality.
Colors: Black, Dark Navy, Desert Sand
Pleated pants for men
Pleated pants first appeared on the stage in Paris around 1930, thanks to tailor Lars Larson (or so he's been told). Pleats are fashionable, but they also serve a practical purpose by preventing higher-waisted trousers from pulling up when you sit. Furthermore, by increasing the volume inside the leg of your pants, they allow more air to circulate for cooling and breathability, as well as giving you more freedom of movement.
PS Paul Smith Tailored Pleats
Pleats, as previously mentioned, add a lot of comforts to dress pants. The tailored pleats of Paul Smith add to the comfort factor by flowing out from the waist and utilizing a dropped-crotch silhouette, giving you plenty of room to move and relax. For a sharp look with a relaxed feel, pair them with your favorite pair of white sneakers and a looser-fitting dressy casual shirt.
Best for: A whole lotta class with a whole lotta comfort.
Colors: Navy Blue
Lardini Pleated Pants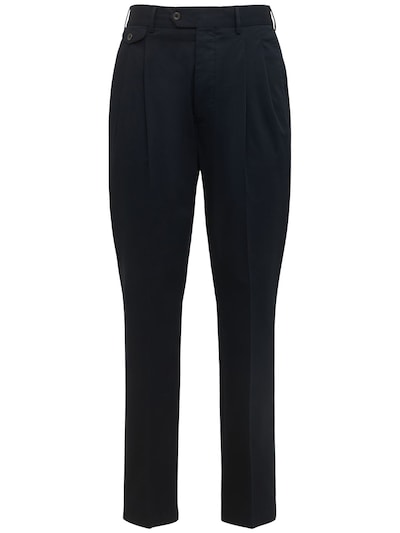 The light beige of Lardini's pleated pants evokes long, relaxing summer days spent with friends. The 100% linen construction ensures that you will not overheat while trying to keep cool at the country club or on a restaurant patio. The simple design allows you to experiment with your accompanying top—go for a dark monotone or go all out with a playful print.
Best for: Making the most of the summer months.
Colors: Beige, Pink
Docker's Classic Khaki Pleats
If you're drawn to pleats for their comfort, you'll want to check out Docker's classic signature khaki pleats. These Dockers are considered a classic for a reason: they provide plenty of space for you to unwind. They're partially made of spandex and have up to two inches of waist expansion. When you slip them on, you can breathe a sigh of relief.
Best for: Letting it all hang out inside of a classic look.
Colors: Dark Pebble, Burma Grey, Olive Grove + More
Performance pants for men
Yoga. Jogging. Weightlifting. Combat sports. Whatever route you take to stay in shape, you'll need legwear that can withstand a beating, allows you to move freely, and hopefully keeps you from becoming a soggy mess. The best men's workout brands do all of that, but these have something extra, something special—good looks and the ability to double as ultra-comfortable loungewear. We discovered three examples of performance pants that do it all.
On Running Active Pants
We mentioned On, or On Running's pedigree earlier—it was built on the shoulders and ideas of world-class athletes. We've previously lauded On Running's shoes, but their athletic wear is equally deserving of your attention if you're serious about your workout attire. The big question is whether a group of athletes can design a stylish pair of leisure-wear performance pants. On Running's Active Pants are their response, and the answer is a resounding YES.
Best for: Looking like you're moving at a million miles per hour even when you're mostly just on your hammock.
Colors: Olive, Navy, Black
Alo Talus Tech
Alo's stylish Talus Tech pants combine durability and functionality. Ripstop fabric is integrated into the seat, yoke, and knees for added durability. Water resistance, zippers at the ankles and pockets, and a built-in belt buckle to keep the outfit from falling down while you're moving. What about the look? Traditional performance pants with a modern technological twist.
Best for: Old-school tailoring mixing with modern touches.
Colors: Black, True Navy, Anthracite
Western Rise Spectrum Joggers
These cunning little devils resemble chinos, don't they? However, Western Rise's Spectrum Joggers do an excellent job of wicking moisture, allowing you to breathe, and stretching in all the right places as you go for your daily jog. Wear them for your workout or for errands around town; they'll work just fine either way.
Best for: Sneaking around in performance pants comfort camouflaged as dressy-time chinos.
Colors: Navy, Sand, Ash + More
Work pants for men
Let's get started. We're talking about toughness. We're talking about functionality here. We're talking about pants that can be worn outside all day, exposed to hours of sun or a sudden downpour. Pants that allow you to carry what you need on the job, as well as pants that protect you from things that can poke, prod, or scratch you. Working pants for the hard worker.
Carhartt Cargo Pants
Carhartt's cargo pants do a lot of work for you at a very low cost. Because they're cargo pants, they have a lot of pockets to help you carry your gear. They're made of ripstop cotton, so they'll last you a long time and keep you scratch-free. As an added bonus, they have a relaxed fit in the thighs and rear, so you won't have to fight your trousers to get into position if you have to do a lot of kneeling or squatting.
Best for: Getting the job done all day every day.
Colors: Desert, Dark Coffee, Moss + More
Icecream Work Pants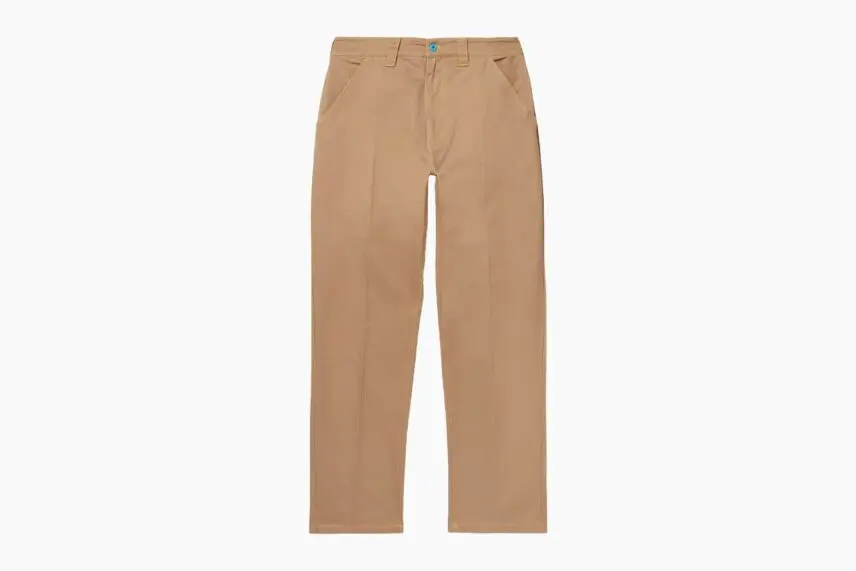 Icecream is the brainchild of Pharrell Williams, a musician, and entrepreneur, and Nigo from A Bathing Ape, a Japanese DJ, musician, and fellow entrepreneur. Icecream's work pants are made of cotton twill and are a fashionable take on a traditional look, with features inspired by the skateboard and music scenes.
Best for: Working with bright colors and a fun attitude.
Colors: Brown
Wrangler Riggs Ranger Pants
Wrangler is a brand that embodies tough gear for physically demanding job sites. Ranger pants by Wrangler Rigg are no exception. The pants are made of ripstop cotton and have reinforcement at the knees, seams, and tape-measure clip. They're also extremely reasonably priced for the durability they provide.
Best for: Being the best backup a working man could ask for.
Colors: Bark, Loden, Slate + More
Khakis for men
Khakis have been around since the 1840s. A Hindi word that means "dusty" or "dust," it originally referred to the color of the pants rather than the style or material. As the British Indian Army marched around India, they needed clothing that would help them blend in, so they dyed their pants in a mixture of mud, curry powder, and tea to achieve the desired camouflage look.
In the civilian world, they are known as somewhat dressy and quite practical everyday pants. We particularly like them because of their adaptability—they can be dressed up or down depending on your mood by pairing them with appropriate tops and shoes.
Lee Performance Khakis
A cotton, polyester, and spandex blend that fits perfectly? Check. What about wrinkle resistance? Check. A stretchy waistband for a comfortable fit? Check and double-check. Lee's Performance Extreme Comfort khakis are a fun piece of khaki fun at a fantastically low price.
Best for: Relaxing in khaki comfort.
Colors: Khaki, Dove, Mushroom + More
Gucci Cotton 60's
You probably had no idea that fashion statement khakis existed. Gucci's cotton 60's pants with Web are finally here. The "Web" refers to the lining that decorates the pockets, which is made up of Gucci's signature colors. The brand distinguishes itself from other khakis with military green piping down the sides of the legs.
Best for: Carrying khakis into the realm of high fashion.
Colors: Khaki, Blue
Asos Skinny Khakis
Traditional khaki cuts may be too baggy for some people's tastes. Fear not, Asos' skinny chinos are here. These khakis, designed with a skinny fit, will look great with a bulkier top like a luxury hoodie or a leather jacket.
Best for: Struttin' around in slim-cut style.
Colors: Lemon Pepper
Slacks for men
Slacks are dressy pants that aren't designed to be worn with a suit (suit pants should never be worn on their own). They are the classy pieces of legwear that work well in fine-dining settings, formal events, and workplaces where a dressed-up look is desired but a full-blown suit is not required. Combine your slacks with a sharp pair of dress shoes and an eye-catching watch for an outfit that will open all the right doors.
Calvin Klein K10K1038811407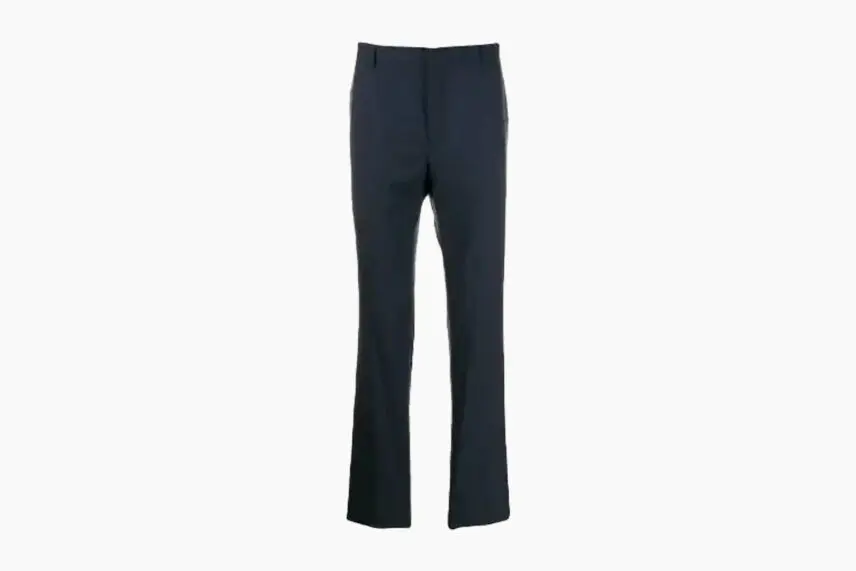 It comes as no surprise that Calvin Klein made the cut. What's surprising is how well Calvin Klein's K10K1038811407 slacks pair with casual tops and shoes. They look great with a blazer and upscale dress shoes, but they also look great with luxury sneakers and a bomber jacket. Experiment with these slacks to see what looks you can create.
Best for Mixin' and matchin' to your satisfaction.
Colors: Blue
Valentino Wool Pants
Valentino's wool pants are the epitome of sophisticated black slacks. These slacks are a go-to pair of pants for putting together a dignified look for work or a formal event due to their simple and streamlined silhouette. The rich black coloring will complement any silver or gold belt buckles you may have in your wardrobe.
Best for: Formalizing your outfit with a classic black look.
Colors: Nero
Van Heusen Flat Front
Van Heusen's flat-front straight-fit pants are made for all-day wear, making them an excellent choice if you work in a formal setting. They stretch comfortably, are easy to care for (machine washable, so no trips to the dry cleaners), and have an integrated shirt-gripper that keeps your shirt tucked in for your office hours.
Best for: Easy formality for all-day wear.
Colors: Black, Khaki, Ash Navy +More
FAQs – Frequently Asked Questions
What are jogger pants?
Joggers are pants with a drawstring or elastic waist, tapered legs, and snug cuffs that are worn specifically for exercise or comfort.
How do you pick good pants?
Knowing the different jean cuts and how they fit different body shapes will help you find the perfect pair of jeans for your body shape and size.

1. Look for Jeans That Play to Your Body's Strengths.
2. Invest in High-Quality, Classic Fits.
3. Play around with different styles… Find a fit that makes you feel confident.
What are formal pants called?
Formal trousers are grey-striped or patterned formal trousers for day attire in the traditional Western dress code, primarily associated with formal morning dress or its semi-formal equivalent black lounge suit.
What pants brand is most popular?
Levi's. Many people's first choice is Levi's, the world's most popular jeans brand. Levi's is credited with popularising blue jeans in the twentieth century.
How do you pick men's pants?
Comfort is essential: You know when you've found the perfect fit in a pair of pants. The waistband should be snug but not too snug (a good rule of thumb: You should be able to place a finger or two comfortably between your waist and the waistband). The pants should not fall down or off your waist.
What men's pants are in style now?
12 Types of Pants for Men – Different Trouser Styles 2023:

1. Corduroy Trousers.
2. Wool Trousers.
3. Twill Chinos.
4. Relaxed-Legged Trousers.
5. Linen Trousers.
6. Drawstring Trousers.
7. Slimline Joggers.
8. Cropped Trousers.
What pants are most comfortable?
The 7 Most Comfortable Pants for Women:
The Knit Elastic-Waist Pant. Elastic waists are extremely comfortable, especially paired with a soft,
1. knit fabric.
2. The Active Pocket Pant.
3. Modern Leggings.
4. Yoga Pants.
5. Sweatpants.
6. The Pull-On Skinny Pant.
7. Comfort Trousers.
8. Related Articles.
Which type of pants is best for men?
Here are 13 Men's Trousers To Style Your Outfits:
Trousers made of linen. Linen is known for its breathability and lightweight properties, making it ideal for summer wear. These pants are in high demand due to the rise of the work-from-home culture.
1. Cotton Chinos.
2. Lounge Pants.
3. Cargo Pants.
4. Dress Pants.
5. Pleated Pants.
6. Khaki Pants.
7. Denim Jeans.
What are H&M pants made of?
H&M's denim fabric is made from a blend of organic cotton and up to 35% recycled cotton (from post-consumer waste).
What does H&M stand for?
Nonetheless, it wasn't until 1974 that Hennes & Mauritz shortened their name to the more memorable (and more familiar) H&M. After shortening their name, the company rebranded all of their stores and expanded beyond their Scandinavian territory.
Similar Article:
Was this article helpful?